4/1/18
Second grade students have just completed their study of Alma Thomas who was an African American "Color Field" painter, who we have been reminded of as President and Mrs. Obama had 2 of her paintings on display in the White House.
Alma lived and worked in Washington DC and was an art teacher by profession, who got deep into her own painting when she retired. (kinda of inspirational)
The other part of her work that I just love to share with the kids, is that she was inspired by the space race! With the movie "Hidden Figures" which some of the students had seen, the lesson becomes quite rich in terms of social justice references and the inspiration plus her enthusiasm for science and engineering.
Here is an example of her work.
"Snoopy Sees Daybreak on Earth" (Snoopy was the nickname for the lunar module)
Students had the chance to think abstractly and plan their own series of color field projects. They made a couple controlled small drawings on paper and then a larger mosaic of painted paper.
1/21/18
Students are completing their Van Gogh Sunflowers, to show at the CH Art Show. It is a complex drawing that most are ready to undertake.
Here is an example of their directions. You should be impressed.
11/4/17
Students often begin the year with a self-portrait. I hope I am not the only one who never tires of it.
2nd graders looked at the Pop Art of James Rizzi, a New York artist (recently deceased) but someone they easily relate to. His work is bold, cartoon-y and silly. They observed his work and learned to draw in his style before completing self-portraits of their own.
You will find these on display near your child's classroom.
We are now looking at the work of Vincent Van Gogh. He embodies the "getting lost in your work" that characterizes the obsessive nature of art making. All of us art makers, children alike can relate to being mesmerized by the materials and lost in the world we are creating. It is a good and calming place to be.
We began by looking at the very, very famous painting "Starry Night." Students make observations and notice what is in the painting and how the lines in the sky and hills flow like water, or wind. Then the students are asked to copy it, using the same kind of line quality-ish but any colors they want.
One new student was incredulous - "did I expect a kid could make art as well as Van Gogh." My answer was..."you would be surprised, and yes!"
The students' interpretations are quite beautiful in my opinion - you too I bet.
Next phase is to look at Van Gogh' "Mulberry Tree," then do our own using paint and oil pastels.
11/2/16
Students looked at this painting as a simple inspiration for their own mixed media project featuring a bird in a cage.
The challenge is that this is a multi-step project with opportunity for individual student expression at several steps along the way.
Kees Van Dongen, La Perruche


Pretty great!
10/3/16
Students are completing their James Rizzi inspired self-portraits.
They did well!
9/15/16
Students are growing and changing so quickly I think it is nice to begin the year with a self-portrait documenting when their developmental point.
We are looking to the very fun art of James Rizzi as inspiration for our self portrait.
His work is upbeat, silly and understandable for us all.
Rizzi slide show
Student results are coming soon!
3/27/16
Alma Thomas
Alma Thomas was an African American color field painter, who was an art educator for decades and when she retired, she devoted herself to painting. She is highly recognized, with more recent notoriety when her work was chosen to be shown at the White House.
One of the really cool things about Thomas is that she was quite inspired by the "space race" and the Apollo Space program. This feature has given us the opportunity to learn more about that exciting and inventive time in history.
Alma Thomas - slide show
Her work is essentially non-objective, though her titles give us hints from where she derived her inspiration. The students are enjoying doing non-objective work with color and thinking about layers and dabs of colors.
Here are some examples of their work:
In February - we studied the work of African American painter Jonathan Green - from the Gullah area of South Carolina.
He is a living artist, who painted from his memory of his childhood community. The Gullah are a series of islands that were off shore plantation farms for indigo, cotton and rice. The plantation owners lived on shore and left the slaves to work hard and farm alone. Over the generations the islands developed a strong and unique community of African Americans.
Jonathan Greens work focuses on the beauty of the area, and the simple pleasures, chores and activities of his childhood.
Students focused on illustrating themselves being helpful or doing a chore they enjoy or a simple activity.
Here are some examples of their work.
1/26/16
Build- a- bear
One of students favorite projects is our "build-a-bear."
We brainstorm all kinds of hobbies, sports, professions so the students can design their bear with a theme. This task adds focus to their efforts and pushes them to think of ways to illustrate their ideas.
Students need to make these clues, costumes on the front of the bear and continue the clues and costumes logically to the back of the bear. This part of the task can be tricky, but it is an appropriate challenge to making their 3-D bear complete, using paper and oil pastel.
Here are a few:
11/21/15
Here are a few of the completed Van Gogh inspired Sunflowers.
Students had to learn to draw realistic petals and complex centers - but were allowed to get creative with color and, setting and vase.
Here are a few of the many exceptional pieces.
10/17/15
We have moved on to a series of projects inspired by Vincent Van Gogh.
He was such a prolific artist with a dazzling style.
We began by looking at his paintings of a tree.
perfect topic for fall.
Students noticed his use of variety of color and small directional brush strokes.
We took this opportunity to paint a tree trunk and branches and later fill the leaves, ground and sky with directional strokes of oil pastel.
Here are a few of the lovely results.
2nd grade
-
9/16/15
A self-portrait seems like the best project to begin the school year.
2nd graders have looked at the silly, cartoony art of James Rizzi (American artist who just recently died).
They are making their self-portrait imitating his style.
They pick up on his drawing techniques really fast and will have completed work in the next week for sure.
5/10/15
Some completed Chameleons!
4/12/15
"Chameleons are Cool" is the name of the book we read that started this project.
Students learned some of the fun facts about chameleons and learned how to draw them.
They have been tasked with planning a picture with 2 chameleons. They can face each other, follow each other, be back to back or be spying on one another. The chameleons can be in any position, but the cool thing is that whenever their are 2 figures of any kind in a picture, a relationship begins and a story develops.
Since the students were doing such a good job with their planning I gave them a full sheet of watercolor paper for their art, and from what I can see, the drawing/painting are going to be quite dramatic and colorful.
Here is the BBC video like the one we watched. Chameleons really are cool!
2/24/15
Jim Dine- Hearts
Students have recently been introduced to the work of the American Pop artist, Jim Dine.
He is a fun subject as he used hearts in lots of his work. He is also known for drawing and painting images of tools - from a hardware store, and a series on the shape of a bathrobe.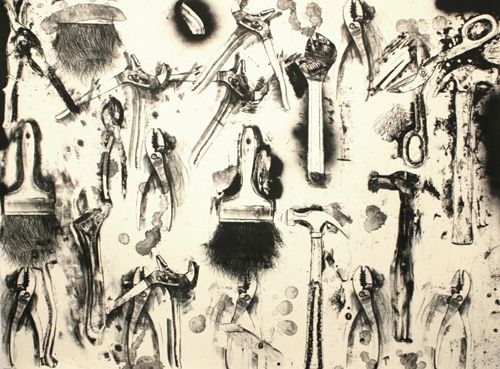 He experimented with color and materials over and over, using these images as structures for his work.
The 2nd graders had a chance to experience that type of experimentation this week, using a heart and the structure to work within and with-out. They did a fabulous job and here are some of their painting/drawings.
Pretty awesome - huh?
Two of the classes have completed their bears.
1/8/15
I apologize for somehow missing updating the 2nd grade.
Oops.
We have been busy learning about Marc Chagall and doing holiday themed projects.
Now we have begun the popular "Build-a-bear" activity in which students must design a teddy bear with a theme, profession or hobby. They learn to draw a bear and add the telling details. Then the tricky part is that they must connect and design the back of their bear's outfit.
Students are always enthusiastic about this project, and that makes it fun for me as well.
front
back
front
back
Here are some of the completed birds in cages. Some of these lucky birds have a great set up.
Enjoy!
10/4/14
We have moved on to one of my favorite projects. The results are always so delightfully beautiful.
The second graders and Ms. Merrill's 2/3 class will be doing this project. Everyone is working really well and students usually like doing this project as much as I do.
Kees Van Dongen, La Perruche
We briefly look at this painting, which is a pretty simple rendering of a pet bird in a cage.
Students then are asked to make a piece of "fabric" or "material" for future use as a table cloth or curtains.
Then we spend a little time learning to draw a bird and students make their own beautiful pet bird.
The last step is to design a bird cage including some things that make it nice and comfortable for the bird.
We are not there yet, but this is what has been completed so far.
It is just pretty and fun. (nothing deep here)
Enjoy:
9/27/14
The Rizzi-style self-portraits are complete and on display in the front hall.
The students did a great job all around.
Here are a few examples of their work.
9/4/14
We are off to a good start in art class and all around the school students are making self-portraits. Having a beginning of the year self-portrait is a great way to decorate the home room and documenting the skills and ideas of the students in September.
The 2nd graders will look at the work of James Rizzi, a fun American artist.
Here is how I will be explaining the project.
This year I will be using some power-point, as the google doc version is quite easy to use. Notice I write "some," meaning not all!
Feel free to learn along with them.
James Rizzi lesson
Sincerely!
NH
4/12/14
Chameleons are cool!
We read the book
Chameleons are Cool
, a clearly illustrated factual book about chameleons. The goal of this project is:
1. learn a little about chameleons
2. practice composing a picture
3. awareness that whenever 2 figures are in a picture that there is a relationship and a narrative has begun
4. enjoy developing patterning on the chameleons' body
5. enjoy making up tropical leaves and flowers
Here is how some of the students have begun:
3/16/14
Some build-a-bears are complete!
2/27/14
"Bbuild-a-bear" (I spelled that wrong on purpose, don't want to get into trouble)
Students began a really fun project inspired by the build-a-bear stores. They are to make a stuffed paper bear who has a personality and role in the world.
The bear will need at least 3 items or pieces of clothing that communicate his/her profession, role or hobby.
The bear will also be designed to have a front and back side, with the clothing looking like it does on a front and on a back. Its a good challenge.
This is a popular project that gets all the kids excited....not one to start when they have an "indoor recess" because of weather. Ooops for today.
When they are happy and excited...I am happy.
2/18/14
Jonathan Green-
This project came out very well. Students illustrated themselves doing a simple chore or simple game/activity, focusing on life is good in its simplicity. Less complexity is what we all need.
Students asked why Jon Green did not paint faces on his figures? We decided (and I know) it is because a blank face is "nobody and everybody at the same time." It is an artist device to universalize the image, or allow any of us to connect without the obstacle of the face looking like someone other than ourselves.
Students did a very nice job on their projects. A variety of crayons were offered for skin tone and students chose the color that represented themselves. I told one group, "we are all shades of brown." It is true. Enjoy.
1/30/14
Jonathan Green, is an artist from the Gulah Islands of South Carolina who paints his memories of his childhood, celebrating simple games and chores.
Here are the examples we have looked at. His newer work is more refined, but these older paintings capture the simplicity we are looking for.
Students have brainstormed chores and simple games and now are illustrating those activities using Green's style.
Some ideas generated by the kids were "walking the dog," "setting the table for dinner," "playing with toys," 'watching a sunset...."
BUT, the students really seem to get the assignment now and are ready to begin to add color during the next class.
1/21/14
Time is flying! and this project was a success.
Students were shown this work by Paul Klee and asked to brainstorm some snow activities. We then used a creative "process" or I guess it could be called an idea generator, "artists like children sometimes make up a story to structure their creations."
Students were asked to think of a simple sentence that strung several snow activities together and then show that story as a
continuous horizon line
.
For instance;
"I was at the top of a hill and I got on my sled to slide down. I hit two bumps, spun around, built a snow fort and went inside for hot cocoa."
Students did this 4 times to generate "lines" and then chose one that appealed to them visually. They then embellished it and turned it into a basis for a painting.
They colored the overlapping shapes with oil pastel, then painted the snow.
The sky color was determined by the color of the background paper. Different classrooms used different paper color. We had a lesson on color theory (a pps standard for 2nd grade) and chose the sky color according to a "primary palette" (red, yellow, blue) or a "secondary color palette" (orange, green, purple).
Students did a good job being creative and making a lovely abstracted winter painting.
This week I am trying a new project inspired by Paul Klee's "Winterbilt."
1/5/14
After learning about symbolism as a concept and how it relates to chairs, the parameters were thrown open and students were asked to create a chair by combining shapes. They tested 4 or more variations before deciding on a final design. Though they still were asked to add color within a limited color scheme and using a layered linear style. They did it.
Here are some of the very creative, expressive, chair interpretations.
11/25/13
Next Van Gogh's chairs and the concept of "symbolism."
A chair can be symbolic of what?
Do any traditions use a chair as a symbol?
How are these chairs different?
Van Gogh's Chair
"Gaugain's Chair"
11/25/13
Here are how a few of the Van Gogh trees turned out:
Students also just got a couple class periods to just paint and experiment with color mixing.
11/9/13
Two more Vincent Van Gogh projects.
Trees - (simple and quick)
We talked about how bark was a variety of colors and textures and looked at VG's tree.
The students learned how to set up to paint and they began painting away.
Next is to add fall leaves and sky.
Halloween!!!!!!
(That is the way it feels around here:0...)
Well it is a perfect time to talk about human anatomy and skeletons, science + art together.
Students are quite enthusiastic as you might imagine.
example
10/19/13
Well students are taking their Van Gogh inspired sunflowers to a highly finished level. They have been instructed to
show off their skills
, using lots of overlapping as a visual trick to show depth. Also they were told they could color their flowers whatever color they would like, they are not limited to natural colors. The work is really good and I think you will enjoy it as much as I do.
Some completed ones are hanging in Mrs. Merrell's class. The rest are still in production.
ps- A parent approached me at the 1st PTA meeting saying she had a framing business. I cut the student work to an 12"x18" size and with my hand-me-down smallish paper cutter am unable to cut backing paper to nicely mat this work. If someone knows who this, would you point her my way so maybe I can get some help matting this work. Eventually I would like to purchase a large paper cutter, but am not there yet. Thanks.
10/2/13
Earlier this week 2nd graders began to take a serious and in depth look at sunflowers. As I had purchased some for the Kindergarteners to observe, I figured I would use them with a different group as well. The students were asked to do some careful observations and to help them understand how to interpret a sunflower as a line drawing we also looked at some complex illustrations of sunflowers. This gave the students a chance to see how other artists interpret a sunflower in a drawing.
Example - drawing
The students did a wonder job of picking up the detail and irregular shapes of the petals.
Student drawings (from Mr. M's class)
Of course the real inspiration is Vincent Van Gogh and his sunflowers.
We will do several projects inspired by Van Gogh's other paintings as the colors are so vibrant and his subjects are so ordinary, but interesting. I told the students a little about VG describing him as having a little trouble with his brain and how he needed to live in a special calm place because he couldn't always get along or understand regular people. But even though it seemed like he had a problem, he was also quite brilliant in art. Something about this seemed to strike an empathetic cord with the students...kind of like an "aha."
Anyway, studying the sunflowers is just the first step. Now the students are planning,
composing
their own drawing/painting of a vase of 3 or more sunflowers. It is a complex process that takes some foresight about how to use the picture plane, and how to overlap the shapes. Their "reward" (for all their focused observational drawing) is they can draw the sunflowers with creative interpretation, but they must be complex in design and show care in their work. The plan is to use the watercolor pencils for a vivid result.
The students seemed very excited by the challenge of the project and we are using nice watercolor paper because I am confident the results will be exciting.
Self Portraits - Students were given instruction on how to draw a face with more accurate proportions. Two of the classes did a line drawing self-portrait, learning and experimenting with different line patterning techniques. They did fine work.
The third class had a different project as Ms. P had special watercolor paper and a plan already in place. Those students learned about their face, used oil pastel for details and the remainder was completed with watercolor.
Student work:
All good art and in the future, all 3x 2nd grades will be doing the same work.
Other 2nd grade Line drawings:
Next, some have already begun a shape/coloring project. Vocabulary is reviewed and students are all given the same directions, yet their work is all very different. For instance I say: draw a large circle, add a triangle outside the circle, draw a rectangle half in and half outside the circle, add 4 squares......... Students are using oil pastel to add color to the areas created by the overlapping shapes. What I have seen so far is very good looking while giving me a chance to affirm the shape vocabulary and review how to add color boldly and completely.
Student work: